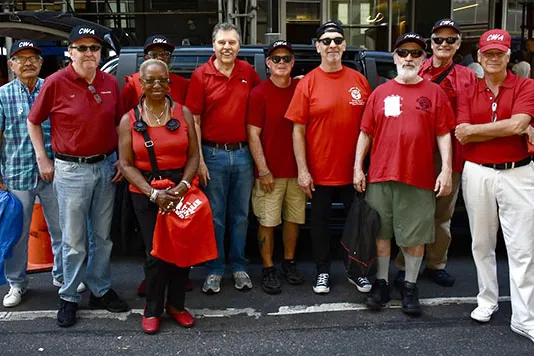 Labor Day Parade 2022
Sponsored by Local 1101, our RMC, Chapter 149, was chartered in 1993.  Reactivated ten years ago, the CWA Local 1101 RMC welcomes all CWA retirees to all its meetings. Since Local 1105 merged into Local 1101, our chapter is now the official home for retirees from both Locals. We met monthly for eight years at Local 1101 in Manahttan and at the American Legion in the Bronx. During Covid the last two years we have been meeting monthly online via Zoom, meeting in person at outdoor rallies and picket lines, and now hybrid, on zoom and in person..
We discovered that meeting on Zoom allowed retirees who moved away to Florida, Arizona, and upstate New York to participate in our chapter. So our plan going forward is to have hybrid meetings that are both in person and on line. However it works out, we will continue to support our union, protect our benefits, and stay in touch with each other.
All meetings are open to all retirees but you must sign up to receive the zoom invitations.
All meetings are Wednesdays at Noon. Check the Calendar Page for dates of meetings and other events and actions.
Click on this link for our ByLaws: 
Send us an email:retirees@local1101.org 
Photos below show a typical work meeting at the Local pre-Covid putting out a mail-out. And a typical meeting on Zoom during Covid.