Click each headline for story, or scroll through
______________________________________________________________________
Service Technicians at Reconn just ratified their first contract. It wasn't easy. Reconn, a subsidiary of USIC, fought the unionization effort and dragged its feet in contract negotiations for a year and a half.
Frustrated with the lack of progress, the union launched a mobilization effort in late summer 2021. An overwhelming majority of members signed a petition demanding management start bargaining in good faith, and took pictures of themselves holding 'fair contract signs'.  Local 1101 members from other employers supported Reconn workers with a rowdy rally with Local 1101's RAT in front of Reconn headquarters in Bohemia, Long Island.  Pushed to the brink, in September of 2021 in a nearly unanimous vote, Reconn members voted to strike. 
 "Management wasn't budging in negotiations," said Joe Green, a Fusion Inspector at Reconn. "They were fighting us on everything. If we hadn't done the t-shirt action, the petition, the strike vote… they would never have taken us seriously."
Members' mobilization and persistence paid off.  Management finally started bargaining in earnest and we reached an agreement in October 2021.  The contract includes significant wage increases and signing bonuses for members at all levels of the wage structure, just cause provisions, additional Paid Time Off after five years, and a night differential. 
"This contract was for job stability," said Joe.  "The first contract is never going to be everything you petition for. We had to accept that Reconn didn't want to pay us what we deserve. But we also had to look at the bigger picture - we got job stability and security. The union definitely provided that."
Local 1101 Executive Vice President Al Russo echoed that. "We got a lot. Did we get everything we wanted? No. But a first contract is a foundation to build on, and this is a great foundation."
The CWA Reconn bargaining team included Russo, District 1 Staff Rep John Dempsey, 1101 BA Heather Trainor, Chief Stewards Keith Hogarty and Pete Ficorelli. 
______________________________________________________________________
USIC Members Look Ahead to 2022 contract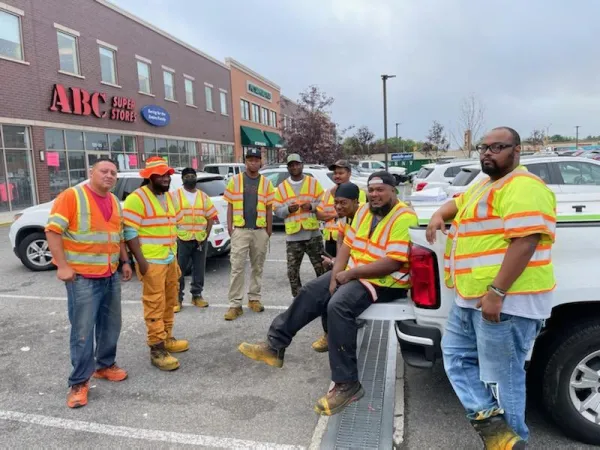 The USIC contract expires in November, 2022. This will be the third contract between CWA Local 1101 and USIC. It hasn't been easy. 
Rich Garvey is a Senior Locator at USIC. "The main thing we're looking for is more pay. They're working us to death. We need more sleep time for emergencies." Garvey points to a number of ways that compensation at USIC is lacking. "Say I'm on call, but I didn't work 40 hours that week. My on-call time is straight time. It should be time and a half, no matter what." Garvey's optimistic about the upcoming negotiations, and the fact that they're union now makes all the difference. "Before we were union, the company  did anything they wanted. I was here when it was non-union, and it was a whole different ball game. Being part of a union really showed results. We get a lot more respect now."
The Local will launch a bargaining survey early next year. Keep an eye out for it, and please respond! We know unions win contract improvements not by pounding the table, but by showing management that the workforce is united and mobilized. Stay tuned for mobilization activities as we move toward contract time. 
Photo: USIC workers morning meet up in Brooklyn
______________________________________________________________________
Local 1101 Reps Training Verizon Members to Pass the Test
In early October Verizon put out internal openings (SPVs - Special Published Vacancies) for 40 Central Office Technician positions. This was the first time members in other titles have been able to move into the COT position in a long time. In order to qualify for the position, members have to pass Verizon's Network Systems Assessment (NSA) test.
Kevin Condy, Local 1101 Secretary Treasurer is on the Employee Placement Team. He said there were more than 2500 bids for the 40 jobs - (individual members were able to put in for multiple positions at once). The selection process, which is by seniority, is still on-going.  In the meantime, Local 1101 reps are training members in the skills they need to pass the NSA. They're teaching small classes of 5-8 people, making sure members understand all the material they need to pass the test. 
"I love helping my peers be able to move forward", said Local 1101 Staff Rep Liz Mercado. "I love teaching. And people are so grateful to have the opportunity to get trained. They're much more confident going into the test."
Liz is one of a team of CWA Local 1101 representatives from the Commercial Division facilitating the training for members throughout downstate New York.
___________________________________________________________________
Unity @Mobility Training Introduces New AT&T Members to the Union
Unity @Mobility training is a great way for new AT&T Mobility workers to learn about the union. Local 1101 leaders have been training members via Zoom since the summer, when the training moved on-line. Tiffany Rosario is a Local 1101 AT&T Chief Steward who made the leap from teaching  in-person training prior to the pandemic to being an on-line trainer.  While she'd rather see people in person, she said there are some benefits to the training being virtual. "We see a lot more members from far away with the virtual training. Members from Long Island and New Jersey, who might have had a harder time getting to in-person training, are there."
Tiffany's been at AT&T for 17 years, and sees talking with new members about the union as an important part of her job. "For a lot of new people, this is their first time in a union. In the training we talk with them about what the union has done to get us where we are today. It's important they know what signing a union card means, what a union rep is. We encourage them to educate themselves about the contract, and AT&T policies. And then we talk about how to make sure the company is following the contract."
Tiffany's Local 1101 co-trainers are Chief Stewards Muhammad Abdulkhabir and Cheryce Chambers, and long-time steward Nicole Wilson.
______________________________________________________________________
Day of Action to Support Good Union Jobs at AT&T Mobility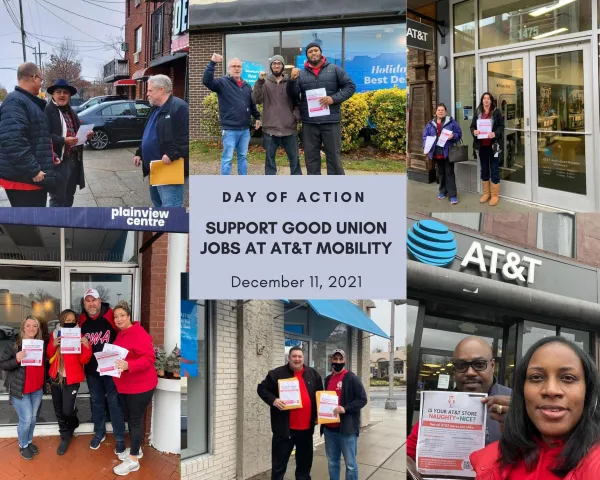 CWA Local 1101 was out in force at AT&T Mobility stores on Saturday, Dec 11 as part of a national day of action, protesting AT&T's closure of corporate operated, union staffed stores. Over the past two years, AT&T has closed or converted more than 650 union staffed stores to boost their profits. 
Third party dealer stores often look almost the same as corporate-owned stores. The only difference is a small sign on the front that indicates the store is an Authorized Retailer. Don't be fooled. Use CWA's store locator to find a union staffed store near you.
Photos clockwise:  Local 1101 President Keith Purce & BA Ken Spatta in the Bronx,  VP Mike Baxter, Jibrell Abdulkhabir and Chief Steward Muhammad Abdulkhabir in Floral Park, VP Maureen Hennessy and Staff Rep Joanie Oleskovic in Yonkers, BA Afori Bobb and Chief Steward Letitia Black in Brooklyn, Exec VP Al Russo and Chief Steward Peter Ficorelli in Wakefield NJ,  Staffperson Sharon Kister, Staff Rep Tamiko Jackson, VP Jerome Paredes and Staff Rep Liz Mercado in Plainview LI.
______________________________________________________________________
New Steward Trainings Up and Running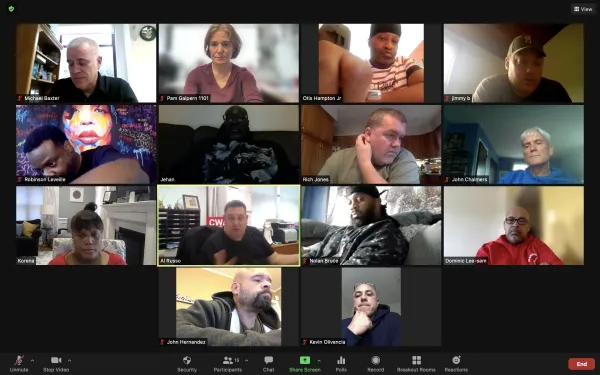 CWA Local 1101 Steward elections are in September of each odd year, and we've got a lot of great new stewards. Which means we started new steward training in October. We're doing the training via Zoom for now, due to on-going COVID concerns. We discuss the role of a steward, member and steward rights, the contract and the grievance procedure, mobilization, and more.
Vanessa Conway is a newly elected steward in the High Tech department at Verizon. "The training was really helpful in learning what the guidelines are for dealing with different situations and grievances. We talked about scenarios that you'd encounter in the real world." Vanessa had been skeptical about doing the training on-line, but was surprised at how well it went. "I was able to interact, engage with people I've never met, hear their opinions and perspectives, and share my own. I enjoyed that."
"It would be good if we had more female stewards," Vanessa said. "It's time for us to stand up as women to defend ourselves. Some garages have no female stewards at all. When something happens, they have to find someone to understand what they're going through. We need to get together and step up and be stewards and even be Chiefs. Women are more than capable."
Next up - AT&T Mobility, Liberty Health and Blue State new steward training will begin after the new  year.
Congratulation to the new stewards who particpated in the trainings: Jimmy Bruendl, Jehan Bryant, Nolan Bruce, Randy Calaman, John Chalmers, Vanessa Conway, Jaime DeJesus, Pedro Garcia, Otis Hampton,  John Hernandez,  Rich Jones, Gopie Jugmohan, Harry Lee, Dominic Leesam, Carlos Lens, Robinson Leveille, Dan Librie, John Martin, Bobby Munday, Joe Noonan, Kevin Olivencia,  Gilbert Ruiz, Javasio Ruiz, Tony Tredici, Latanya, Walrond, Sean Williams, Korena Wilson-Garretty.
Photo: First Verizon virtual Steward training. 
______________________________________________________________________
Blue State Workers Negotiate First Contract
Workers at Blue State, which provides digital services to progressive political causes and campaigns, joined CWA Local 1101 last year. Blue State voluntarily recognized the union, and the Blue State bargaining team negotiated a first contract in September of 2021.  The contract includes just cause language, clarification of working hours and leave policies, salary minimums, guaranteed annual raises and a robust benefits package.
Shannon Kelly is a designer at Blue States and was on the bargaining team.  "I'm really proud of our first contract," Shannon said. "We negotiated a lot of great wins that lay the groundwork for even better contracts in the future. We raised the salary floor for entry-level employees to a $60k minimum and all unit members are guaranteed an annual raise. We outlined processes for promotions, internal hiring, and review cycles to make opportunities for growth more equitable. Finally, we have in writing that a standard work-week is 40 hours over the course of 5 days. That's important because our members are not eligible for overtime pay and we needed to establish a boundary toward better work-life balance."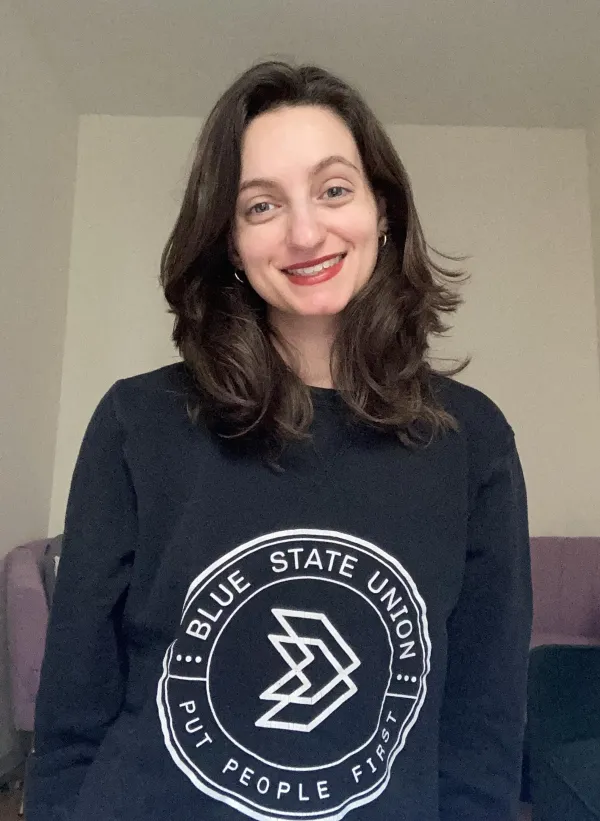 Shannon described the unique bargaining structure Blue State workers established. "We had a  'bargaining sub-committee'  of unit members who didn't attend bargaining sessions but helped the bargaining team vet proposals and provided invaluable perspectives. I was also lucky to have now-former Blue Stater Sabina Tarnówka as my bargaining team partner. Sabina's smarts, hard work, and overall commitment to creating a more equitable workplace was felt by everyone. We had such a positive experience working with John Dempsey (CWA District 1 Rep), Keith Hogarty (1101 Lead Organizer), Maureen Hennessy (1101 VP), and Heather Trainor (1101 BA) on the bargaining committee. They made the process much less intimidating and helped us tackle issues that were unique to Blue State."
We asked Shannon what her goals are for the next few months. "We've seen a lot of turnover in our unit," she said. "For  many of our unit members--including myself!--this is our first time being part of a union.  My goal for the next few months is to make sure that folks who weren't present for a lot of this process and maybe don't have a lot of knowledge about unions become engaged and active". Shannon also pointed to the fact that new hires as well as existing activists step up to be stewards.  "We recently had our call for steward nominations and I was excited to see Blue Staters from nearly every area of our business--from our finance department to our video team - volunteer to be stewards!"
Photo: Shannon Kelly
______________________________________________________________________
Lotto and Casino Workers at IGT Negotiating Joint Contract - Stronger Together!
Bargaining for IGT lotto machine and casino workers is underway. CWA Local 1101 members maintain the machines at Yonkers Raceway and Resort World, and all the lotto machines throughout the city. The union negotiated a 2.5% wage increase earlier this year, but this is the first bargaining since the contracts were extended during the pandemic. 
The lotto and casino contracts are being negotiated together and merged into a common contract. That means workers will have bargaining power, said 1101 Business Agent Ken Spatta. Spatta is on the negotiating team, along with 1101 VP Jerome Paredes, CWA District 1 Staff Rep Ricky Morrison, IGT casino workers William Small and Dino Corossis and IGT lotto workers M Nazim Uddin and Jose Reynoso.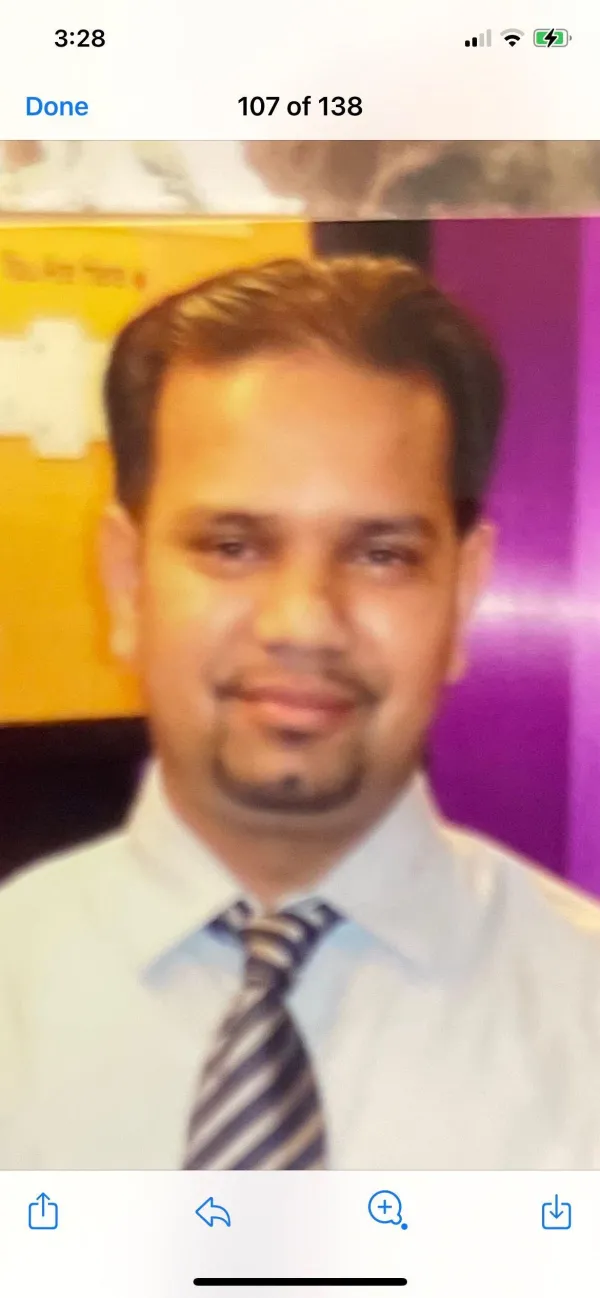 M Nazim Uddin is a Field Service Technician II who's been fixing lottery machines for 19 years. He's quick to note that he was the first person who called Ken Spatta years ago to get IGT organized. He's been a leader and shop steward ever since, and is on the current bargaining team. "We need a salary adjustment. The company requires us to live in the city, but they're not paying us so we can afford to," Nazim said. 
He pointed out how important the NYS Lottery is to the city. "NYS Lottery brings in $7 billion in revenue a year, 53% of which goes to the school system. We have 28 workers and we're in charge of more than 10,000 machines. How are you not paying us a decent salary? We have families here."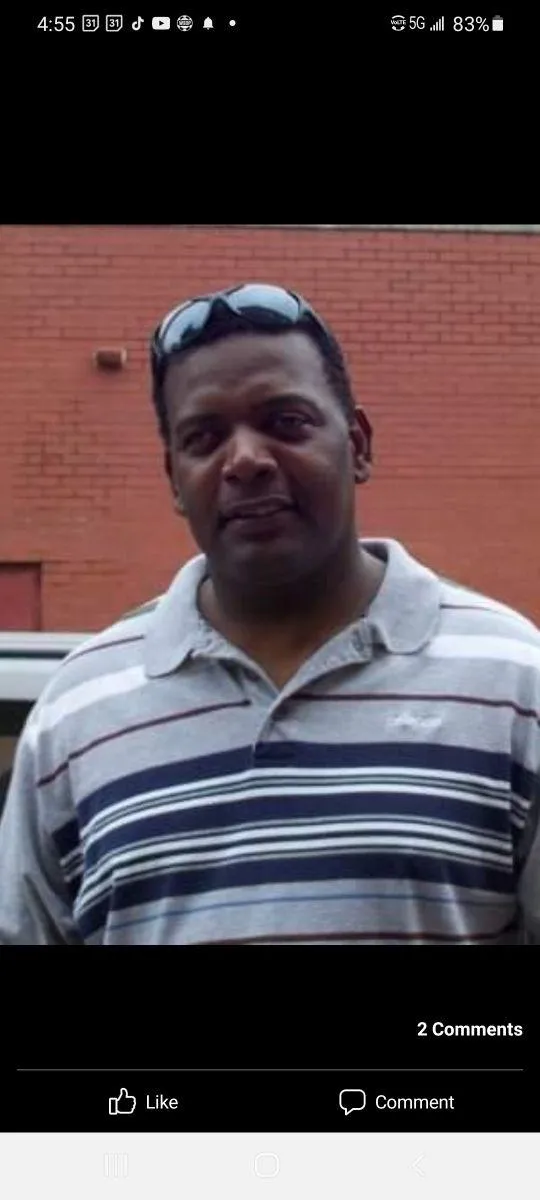 William Small is a Tech II Field Service technician, and a member of the bargaining team also. He's worked on the slot machines at Yonkers Raceway for 13 years, but became a shop steward recently.  I didn't think I was being treated fairly. Nobody was speaking up for me, so I had to speak up for myself and my co-workers," William said.  "We need a raise. It's all about getting an equal share. I think it's a good thing that we're negotiating casino and lotto together. We had Yonkers and Resort World, and now we're bargaining for Jake 58 also. That will give us more power."
"We're ramping up mobilization," said Spatta. We've got a strong group of members here who made a lot of sacrifices during the pandemic. They deserve a significant raise, and they're ready to fight for that." 
Photo: Local 1101 VP Jerome Paredes, BA Ken Spatta, CWA District 1 Staff Rep Ricky Morrison, and IGT worker M Nazim Uddin, with others in IGT bargaing. 
______________________________________________________________________
CWA and Century Link Reach Three Year Contract Agreement
 Workers at Century Link in New Jersey ratified a new three year contract earlier this year. They won some major improvements, including Martin Luther King Day being designated a paid company holiday and wage increases of 4.5% over three years. They also held off concessions the company wanted, keeping overtime pay for more than 8 hours a day, keeping overtime pay for all Sunday work, and protecting the current language on layoff protections and a 32 hour work week. We also gained important language on how workers are compensated in the event of occupational injuries. 
 Congratulations to Century Link workers who stood strong throughout the bargaining. The bargaining team included Local 1101 Vice President Jerome Paredes, Business Agent Ken Spatta, Chief Steward Vikki Rochelle, and CWA District 1 Staff Representative John Dempsey.
______________________________________________________________________
 Mobilize Workers Negotiating First Contract

Have you ever been contacted by a CWA member who was phone or text banking for a political campaign or to promote legislation to help working people? That member probably signed up using the platform Mobilize. Mobilize is an organizing platform that provides Democratic campaigns and other organizations a centralized system for events, door-knocking and voter outreach shifts. CWA is one of many unions and progressive organizations that uses Mobilize.
 Mobilize workers joined CWA Local 1101 and were voluntarily recognized by the company in early 2021 as part of the CWA-CODE campaign. Mobilize workers Joann Chandler, Kayvon Seif-Naraghi  along with Local 1101 VP Maureen Hennessy,  Business Agent Heather Trainor, and Lead Organizer Keith Hogarty have been in bargaining since Spring of 2021. 
 The main issues on the table have been salaries, just cause language, and the ability for Mobilize workers to donate and volunteer time to political campaigns, which they weren't allowed to do before. We've made a lot of progress in bargaining,  and we're looking forward to Mobilize workers announcing a first contract agreement before too long.
______________________________________________________________________
CWA and AMPTP Agree to 3 Month Contract Extension
The contract between CWA and the AMPTP has been extended for three months from December 1, 2021 to March 1, 2022. Negotiations on a new contract will begin in January, 2022.
Derek Lawrence is a PPA Supervisor (bargaining unit member) and Local 1101 Steward and has been working to address some of the problems PPAs face on the job. "At Netflix we're still working through a lot of issues we discussed during the pandemic. A lot of the problems are still out there, and we're fighting those battles every day. Bathroom access is still a problem. That's contractual, but we have to fight to enforce it. We need relief people - PPAs sometimes have to sit for 12 hours, with no breaks because there's no release person to cover for them. You have to find someone to watch your section, run and get food and go back. You shouldn't have to do that, we have break time in the contract. But we need relief people to cover us, so we can make that happen.
We asked Derek what he hopes to see in bargaining. "We want to see a liveable wage for NYC. We need hazard pay. Just recently we had to get the police involved when a pedestrian pulled a gun on one of our guys during a production. We need more safety equipment, like security lights. We're tired of being treated like this. I think the production companies have to make up for years in terms of taking advantage of this workforce," Derek said. But he's optimistic about the next phase. "We have a big opportunity right now. The winds are in our favor".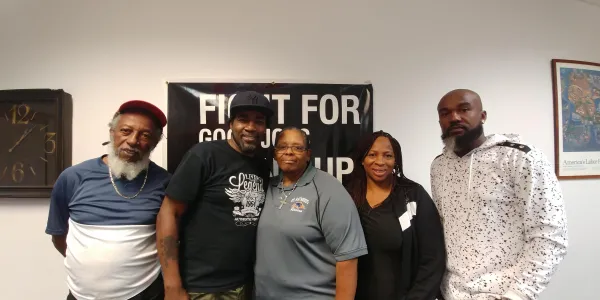 The Local is collecting bargaining surveys from PPAs and Parking Coordinators, now. We want to know what issues are most important to you. If you haven't filled out the survey already please do it here.
Photo: PPAs Alan Bennett, Derek Lawrence, Lanere Rollins, Flora Gillard and James Peters at 2019 PPA Steward training
______________________________________________________________________
Meet Jonathan Sutherland, New Chief Steward at Arms Acres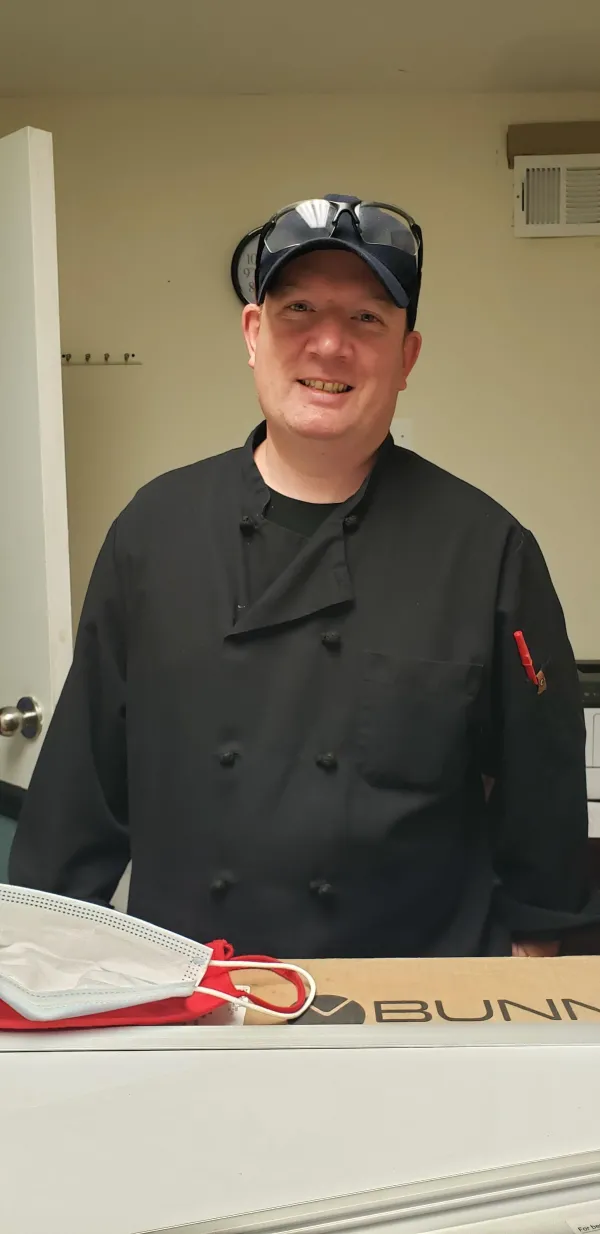 Jonathan Sutherland has been at Arms Acres for eight years. He's a senior cook, and runs the kitchen. Jonathan recently became Chief Steward at Arms Acres when Shashanda Hardy left Arms Acres. 
"I want to get more members involved in the union", said Jonathan. "A lot of people know we have a union, but they don't use that to their benefit. We worked throughout the pandemic. But it feels like we're dealing with an attack on health care. There isn't a lot of incentive to come to work. Workers feel like they're doing more than their share, and not being recognized for their labors."
Jonathan said being a new Chief can be tough, but said he has people to turn to.  "I call Chris Pulley (Chief Steward at Conifer Park) or Ken Spatta if I have questions or need support. They've been really helpful. 
In the next contract, Jonathan would like to see a pay increase, more incentives, and contract language to guarantee safer working conditions. 
Big shout out to out-going Chief Steward Shashanda Hardy. Thank you for all your work. We will miss you!
______________________________________________________________________
 EDS Workers add Juneteenth to their contract
 EDS workers negotiated a one year contract extension in July of 2021. The contract includes a 2%  wage increase, a $500 signing bonus, and the addition of Juneteenth as a paid holiday. 
 "These members worked all through the pandemic," Brendan Tobin, Local 1101 Chief Steward for EDS said. "They had people working inside and outside. When the new construction sites opened up they had a lot of safety issues to deal with. Bids were getting shut down left and right. Some members were doing the engineering work from home. They had some slow times, but then construction picked up again. They did a great job, and I'm really proud of them. I'm glad we were able to negotiate the extension, and what I think is our first contract to include Juneteenth as a paid holiday."
______________________________________________________________________
New Groups Join Local 1101 - Welcome Citizen and Sole Strategy Workers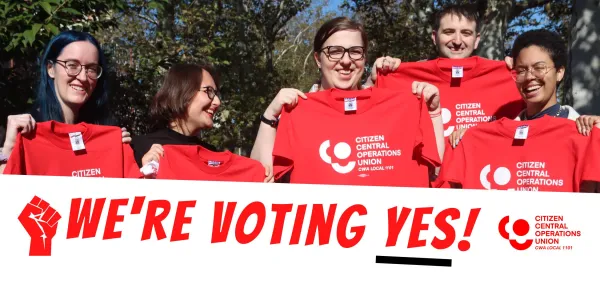 On Dec 13 more than 90 workers at Citizen Central Operations Department voted overwhelmingly to join CWA Local 1101. The Citizen app provides users with real time alerts about public safety threats like fires, accidents, and crimes, as well as safety tracking for friends and family. 
 Citizen workers faced a fierce anti-union campaign by the company, which hired a known union busting firm.  But the workers didn't back down. They organized a number of mobilization activities, including wearing red CWA Local 1101 t-shirts, publicly supporting the union campaign, and changing the company slack profile picture to a union logo on the day they gained a majority of signed union cards.
 In addition to wage equity, decent healthcare, and job security, Citizen workers want a union in order to help protect community members' safety in their use of the app. Welcome to CWA Local 1101 - We're excited to have you!
 CWA Local 1101 Lead Organizer Keith Hogarty and CWA District 1 Organizer Mary Clinton helped bring Citizen workers to victory. 
Welcome Sole Strategies workers!
On Dec 4 workers at Sole Strategies won voluntary recognition to become  members of CWA Local 1101. Sole Strategies is a NY based company which provides a range of services to democratic campaigns and labor organizations, including fundraising, social media marketing, and field organizing
Workers at Sole Strategies wanted to ensure that in addition to supporting progressive causes and labor organizations through their work, they also have a voice in their own workplace.  Welcome to the union!
CWA Local 1101 Lead Organizer Keith Hogarty worked with Sole Strategies workers on this campaign.
______________________________________________________________________
Local 1101 Supports Health Care, NewsGuild, and Graduate Worker Strikers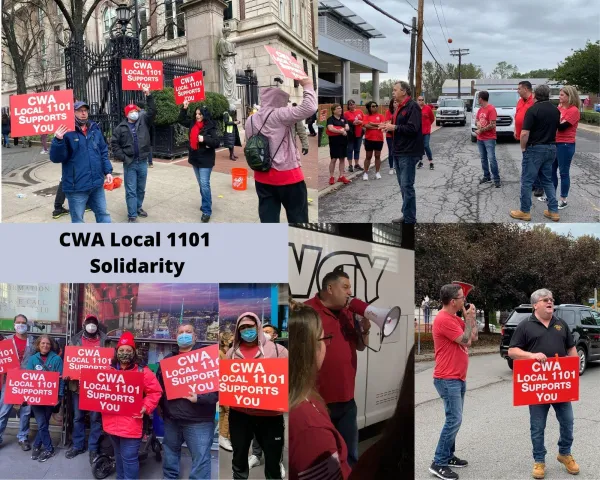 Strikes are on the rise across the country, as workers who were considered essential during the pandemic are standing up and telling management they're not expendable now.
 Local 1101 was proud to send a delegation in October to support striking CWA workers at Buffalo's Mercy Hospital. Members of CWA Locals 1168 and 1133 there won a ground-breaking contract after a five week strike. Closer to home, members joined CWA Newsguild workers protesting the New York Times, as workers there prepared for a Wirecutters Black Friday strike (Wirecutter workers just reached an agreement after a two year contract battle).  And Local 1101 was in Harlem on December 8 to support Columbia graduate students who have been on strike for five weeks and are being threatened by the University with permanent replacement. "It felt good to be out there doing what we do - supporting workers who are standing up for themselves and fighting back," said Business Agent Josey Diomede.
"We're proud to be out in the street walking the line with strikers," said CWA 1101 President Keith Purce. "This has been an exceptionally tough few years for workers, and it's encouraging to see workers from so many different industries standing up for their right to a safe workplace, to be compensated for their labor, and to be respected. Where workers are fighting back, Local 1101 will be there to support them."
Photos clockwise: Chief Steward George Bloom, Assistant to the President Ron Van Long, BA Josey Diomede,  CS Chris Vilardo on Columbia students picket line; CWA District 1 VP Dennis Trainor, 1101 Lead Organizer Keith Hogarty, Exec VP Al Russo, BA Heather Trainor, Sec Treas Kevin Condy with CWA Mercy Hospital strikers; 1101 Stewards Tom McCormick, Pam Galpern, Crysal Rucando, Rich Jones, CS Chris Vilardo with NY Guild/CWA workers at New York Times protest. 
___________________________________________________________________
Revived Retirees Chapter Celebrates 10th Year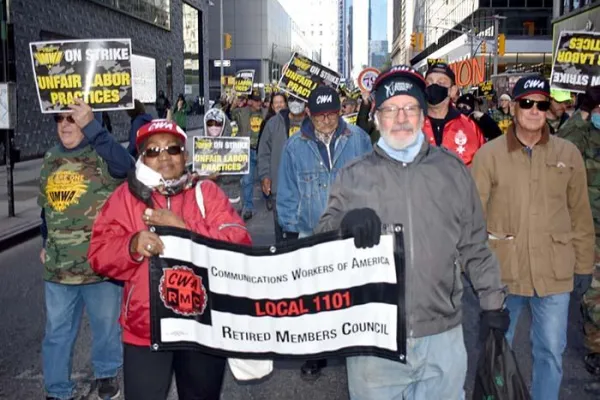 After eight years of meeting monthly at the Manhattan Local and the American Legion Hall in the Bronx, retirees had to move meetings onto Zoom in 2020.  That's left out some good union retirees who are uncomfortable or unable to use the technology. On the up side it allowed our RMC chapter to connect with retirees who are out of town, from Arizona, Florida, and northern and western New Year State.
Our one chance to safely meet in person has been in Manhattan, at—where else? — a picket line, supporting the striking coal miners from Alabama. They were in town to protest in front of finance giant BlackRock. 
On-line and in person, retirees will continue to meet at least monthly to support the active members and share information about politics and health care. And to have some fun and reconnect with old friends!
All 1101 and former 1105 retirees are welcome at our meetings and encouraged to attend. For more information see our website at  http://local1101rmc.org/ or call the Local at 212-633-2666. Check out our facebook page at www.facebook.com/groups/CWA1101RMC. Email us at cwa1101retireemc@gmail.com 
The Local 1101 RMC Board members: Pat Welsh, Denise Hawley, Tom Smucker, Anita Lathan, Ilene Winkler, Mike Blau
______________________________________________________________________ 
Reversing Runaway Inequality Trainings Take on Tough Issues
CWA Local 1101 members participated in a lively two-day training in mid-October. The Reversing Runaway Inequality training brings together workers from different CWA Local to analyze the growing inequality gap between the super rich and ordinary workers. How did we get to a place where CEO's make 800x what their workers do?  How does the 1% use race to divide workers?  What political actions are CWA members taking to combat inequality? Those are all questions we tackle in the training. 
"The group I did the training with was wonderful," said George Bloom, Chief Steward for Verizon Network Installation.  "Everyone was open and honest and respectful. We represent members of every race, religion, ethnicity, and we want everybody on an equal playing field.  We covered some hard subjects that people don't normally talk about. I learned a lot about the structure of certain laws, and the meaning behind them when they were put in place. It's a good respectful platform to open everyone's eyes to what's going on, and has been going on, in our country. Those issues directly affect our workplace also." 
In the October training members showed their solidarity with striking CWA Buffalo health care workers and made calls to Catholic Health care executives to urge them to settle the strike.
Participants: Maria Benitez, George Bloom, James Bowen, Bernie Burgess,  Arnette Carter, James Droogan, Adriana Edwards, Mary Finn, Keith Fortson, Melody Hawkins, Annunciate Hopkins, Michael Laposota, Carlos Lens, Catalina Rios. Trainers: Pam Galpern (1101), Chris O'Shea (1104), Eduardo Delgado (1168).
______________________________________________________________________
Local 1101 Member Voices from 9/11
September 11, 2021 marked 20 years since the tragedy of 9/11. We asked members to tell us their stories of how they helped rebuild the communications network in lower Manhattan after the attacks. Together they form a story of tremendous sacrifice, herculean effort, and lasting effects. If you missed it, you can see Members' Voices here, and watch the Local 1101 video "We Have Not Forgotten" here. Thank you to everyone who contributed. 
______________________________________________________________________
Local 1101 Wins Organizing Awards
CWA Local 1101 was awarded  two organizing awards at the 78th annual convention, held virtually this year. CWA President Chris Shelton presented the Hat Award to CWA Local 1101, along with CWA Canada, CWA Local 2336, CWA Local 1400 (Alphabet Workers Union), NABET-CWA Local 52031, TNG-CWA Local 31222, and CWA Local 9410. 
These locals have brought more than 2,000 new high tech workers into CWA, as part of a national effort to organize tech workers.  CWA Local 1101 donated the $1000 organizing award to the CWA Mercy Hospital strikers. Special shout out to CWA Lead Organizer Keith Hogarty, who spearheaded the Local's organizing efforts with CWA-Code.
______________________________________________________________________
Local 1101 Member Assistance Program is Here to Help
Do you know someone who needs help? Do you need help yourself? CWA Local 1101 has two trained and dedicated Member Assistance Program Representatives to help members and their families with mental health and substance abuse treatment (Inpatient and Outpatient), and problems relating to alcohol, drugs, stress, depression and relationships.
All information and conversations are kept strictly confidential.
Contact one of the following Local 1101 representatives for assistance: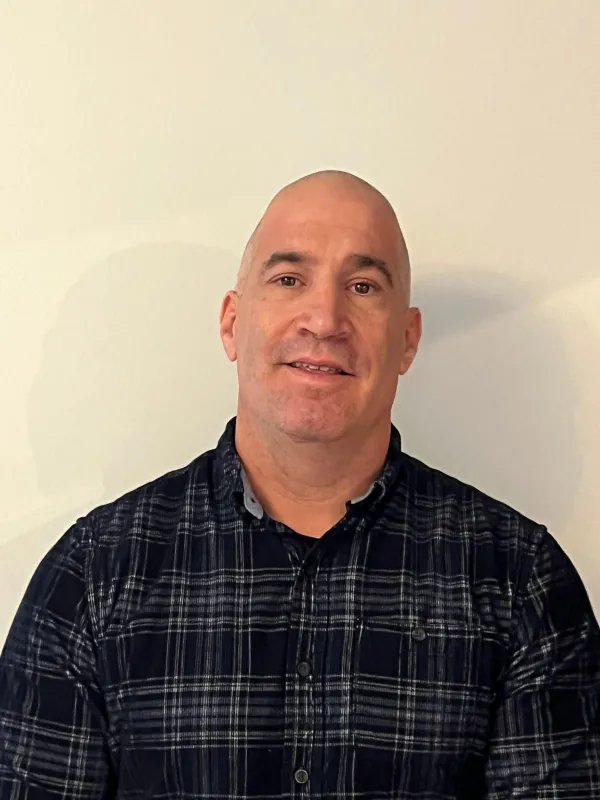 Anthony Luciano (LAP-C, SAP) at 646-662-9846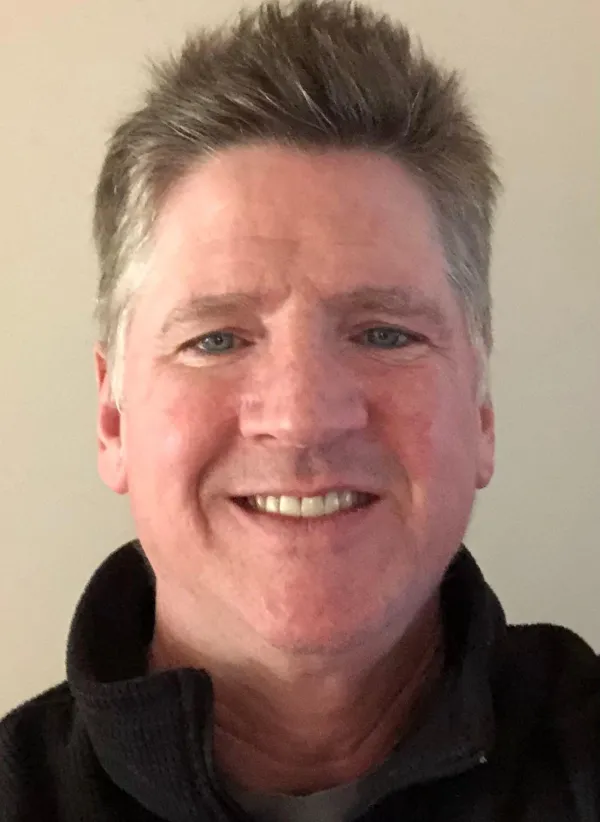 Jim Murphy (LAP-C, NCPRS) at 203-300-6994 
______________________________________________________________________
Legislative Wins in 2021
CWA members and political activists in District 1 were busy in 2021. We weren't successful on every bill we pushed, but we won a lot. Some highlights of legislation that CWA helped get passed during the New York State legislative session of 2021 include:
✓ $4.3 billion in new revenue by taxing the ultra-wealthy that will help rebuild our schools, hospitals and universities, and bolster our public services.
✓ Progress on Safe Staffing legislation for hospitals and nursing homes. After decades of work, we passed legislation to form hospital-by-hospital labor/management staffing committees that will create staffing plans.
✓ $1 million for our Broadband Data Mapping Bill to study broadband access throughout New York State so we can better deliver broadband to all.
✓ The NY HERO Act to protect workers on the job. This groundbreaking bill will protect workers during the ongoing COVID-19 pandemic and beyond by creating new health & safety standards, giving workers a stronger voice on the job, and holding employers accountable.
✓ Fiber Acceleration. This bill gives broadband service providers like Verizon the right to access buildings to deliver fiber in order, allowing our members to deploy better broadband service to New Yorkers.
✓ $3.1 million for the CUNY School of Labor & Urban Studies.
When your steward asks you to call your legislature, or you get an email from the Local asking you to email your representative, please do it! It's all our work calling, writing, lobbying, pressuring and protesting that has gotten this legislation passed.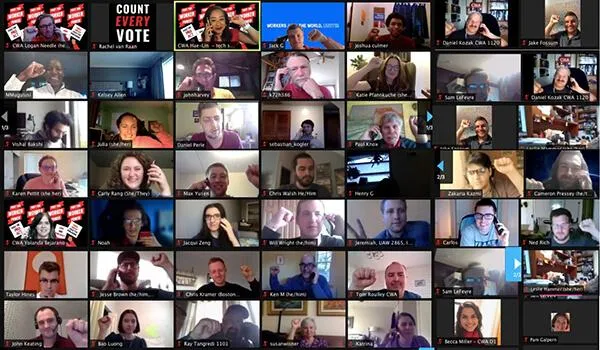 Photo: CWA phone bank for the PRO Act