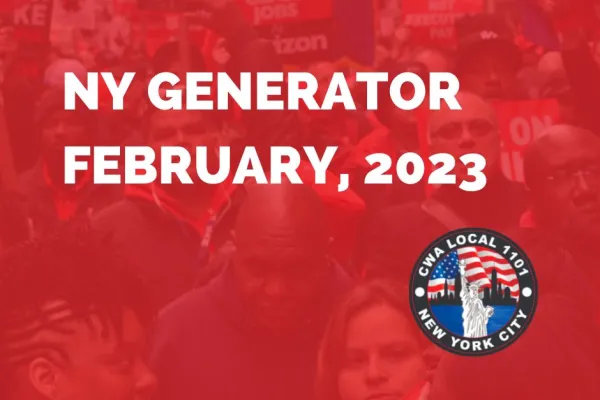 CWA Local 1102 Merges Into CWA Local 1101 - Welcome!
So many contracts!
USIC Workers Protect their Work and Ratify a New Contract
Liberty Health Members Ratify New Three Year Contract
The Unsung Heroes of Your Favorite Films and TV Shows are Bargaining a First Contract
We're Bargaining at Thryv and BBH Solutions
New Organizing Never Stops
Training our Members and Stewards
Solidarity!
What's our Equity Committee up to? 
Join Our Women's Committee
Local 1101 Retired Members Council is ALWAYS ACTIVE
Chief Steward Chris Smyth Recognized with Solidarity award
---
CWA Local 1102 Merges Into CWA Local 1101 - Welcome!
On January 1, 2023 CWA Local 1102, representing Verizon and EZPass workers on Staten Island, officially merged into CWA Local 1101. Welcome to our new Local 1101 members!  In November, 2022 Local 1102 workers voted overwhelmingly for the merger. "We're excited to have the Staten Island members in our Local," said CWA Local 1101 President Keith Purce. "On the Verizon side, joining a bigger Local creates more leverage for all of us in bargaining. On the EZPass side, we're hoping to utilize our political power and mobilization skills to make sure the EZPass workers stay union members as they move into the new company."
"I think the merger with 1101 is going to help us reach our goals of providing our Verizon members with the best representation possible, and support our fight for EZPass workers' job retention," said Steve Lawton, former Local 1102 President. "It will also help us organize in industries we're already in - call centers - where we're hoping to expand."
The EZPass workers are in a heated fight to protect their jobs. In June of 2021 the New York State Thruway Authority approved three EZ-Pass related contracts, including one that would transfer the EZPass call center operation from Staten Island from its current provider Conduent to a company called Fanueil. Fanueil announced they'll operate out of Rochester and Ballston Spa in upstate New York, closing the Staten Island call center where more than 200 CWA represented members currently work.  In March of 2024 a different company, TTEC, is slated  to take over the call center work.  
"We're working on job retention for when that time comes," JoAnn Christie, a Senior Payroll Coordinator at Conduent said. "We're much stronger now with the merger with 1101. We know what's needed here. It's scary when you realize no-one else is going to do it for us. We have to do it."  Bertino Correa is a bi-lingual Customer Service Representative (CSR) at Conduent. "Since COVID, with everyone working from home, the Company has had more ability to do what they want. We're working on changing that," Bertino said. Nisansala Mallawaarachchi is also a CSR. "We're excited about building our union power," she said. "We want to educate ourselves and our co-workers, and be active participants in the union." Joann, Bertino, and Nisansala are all members of  the CWA 1101 EZPass Workers Organizing Committee.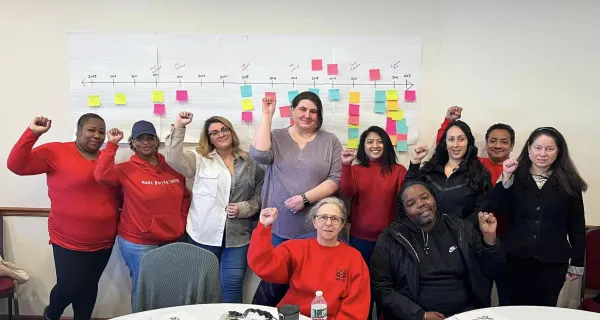 Local 1101 EZPass workers Organizing Committee meeting, MLK Day, Jan 16, 2023
So many contracts!
We did a lot of bargaining in 2022 and wrapped up the year with ALOT of new contracts. Workers at Mobilize, Action Kit, Citizen, and Sole Strategies all ratified first contracts. Verizon and Verizon Wireless workers ratified a four-year contract extension which extends to August, 2026. Local 1101 members at AT&T Mobility in New York and New Jersey, part of the national Orange contract, ratified a four year contract that extends to February 2026. Parking Production Assistants and Parking Coordinators ratified a three year contract that extends to December, 2024.  Members at 32BJs legal division, E.D.S., Wireworks and PowerCom also all ratified contracts. 
---
USIC Workers Protect their Work and Ratify a New Contract
After a hard-fought battle, workers at USIC ratified a three year contract. Before the contract fight at USIC, we had to pressure Con Edison to renew their tone-and-mark contract with USIC.  "Con Ed thought they'd be able to give the contract to a non-union company and pay less," said CWA 1101 Executive VP Al Russo. Contractors submitted bids that undercut USIC. "But they didn't take into account that because New York City passed prevailing wage, sick time, and on-call laws in the last few years - laws we fought hard to get enacted -  contractors would have to abide by those laws as well," Russo said. We mobilized political support from legislators who helped put those laws in place, including New York City Comptroller Brad Lander, to convince Con Edison to keep their tone-and-mark contract with USIC.  In addition to Lander, NY State Senators Jessica Ramos, Brad Hoylman and Gustavo Rivera, and NYS Assembly Person Alex Bores all helped us keep the pressure on Con Ed. 
With the Con Ed contract with USIC in place we were able to negotiate a three year contract with USIC.  The contract includes additional pay for members who are training new hires, more sick days and Paid Time Off, and a shorter time span to accrue vacation. "We've come a long way from the first contract we negotiated with USIC in 2016," Russo said. "Through our successful efforts to get USIC workers included in prevailing wage law, members on-going mobilization, and bargaining, USIC members have raised their standard of living and improved working conditions significantly." 
The Bargaining Committee included Local 1101 Executive VP Al Russo, Business Agent Heather Trainor, Division Chief Ficorelli, Lead Organizer Keith Hogarty, USIC stewards Larry Howard and Rich Garvey, and CWA District 1 Staff Representative John Dempsey.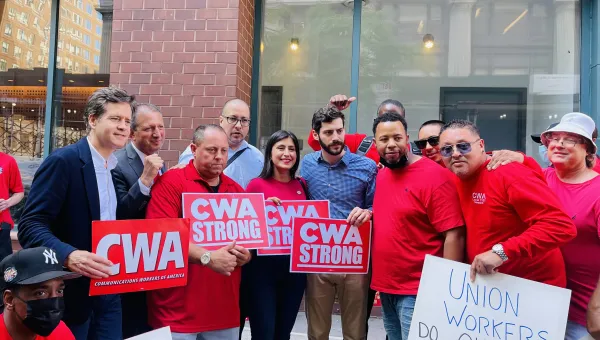 USIC workers with Elected Officials at Con Edison rally
---
Liberty Health Members Ratify New Three Year Contract
Members at Arms Acres and Conifer Park just ratified a three year contract with Liberty Health. Wages were the biggest issue, with the facilities being financially strapped and workers having gotten a small increase with last year's contract extension. "It's been awhile since we've had a significant pay raise," said Conifer Park Chief Steward and Case Manager Chris Pulley. "Last year we got 1.25% with the contract extension. We saw that the patient population was down. We knew the company was going through hardship. But we also knew we needed a substantial raise."
"This was a tough situation," CWA Local 1101 Vice President Jerome Paredes said. "The patient population at both Arms Acres and Conifer Park is still down due to the pandemic. During COVID insurance companies moved patients to remote treatment. That isn't a long-term solution for people needing treatment for drug and alcohol addiction. But it works for the insurance companies because it's cheaper.  The insurance companies are still pushing patients in that direction, which created a lot of financial hardship for the facilities. That was the environment we were bargaining in. Ultimately we brought in a mediator and were able to reach an agreement that guaranteed good raises for our members. The last year of the new contract is a census based raise that could reach 5% if the buildings fill up again."
In addition to wages, the other big topic was safety. "We have a lot of safety concerns due to understaffing." said Jonathan Sutherland, Arms Acres Chief Steward and Senior Cook.  "We needed a way to document that when it becomes a safety concern. And we got that." 
"As per the agreement, when understaffing creates a safety issue, members will document it with an ADO  (Assignment Despite Objection) form," CWA 1101 Business Agent Ken Spatta said. "We'll be able to use the process as both a deterrent to safe staffing and evidence if things get out of control." 
"Overall I think we did pretty well," Sutherland said.  "They wanted to give us a 0.75% raise, and we got to 3% in the first year of the contract.  That was a win." The Bargaining Team included CWA 1101 VP Jerome Paredes, BA Ken Spatta, Chief Stewards Chris Pulley and Jonathan Sutherland, Steward Maureen Tremarzo, and CWA Staff Representative Mike Garry.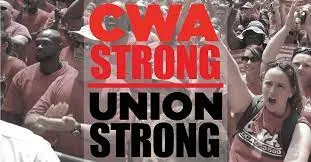 ---
The Unsung Heroes of Your Favorite Films and TV Shows are Bargaining a First Contract
CWA 1101 is in bargaining with the Alliance of Motion Picture and Television Producers (AMPTP) for a first contract for freelance Post Production Coordinators - Post Production Guild members - who joined Local 1101 in June of last year. Post Production Coordinators help turn thousands of hours of raw footage into a polished final product for established and profitable studios including Apple, Netflix, CBS, HBO, Universal Television, and others. Bargaining started in November, 2022. 
"We're working hard to bargain a first contract with the AMPTP that will establish fair wages, good benefits and scheduling improvements for Post Production Coordinators", Mike Baxter, Local 1101 Vice President said. 
"Bargaining is progressing," Lauren Orban, a Post Production Coordinator at Disney said. "There's been movement on both sides. We want to see a substantial increase in our rates. We want to be seen and treated as the professionals we are. You don't get into this role with minimal experience. It's a position you have to work your way up to," Orban said.  "We're the unsung heroes of the department. We need to educate the AMPTP on what we do, and how vital our role is." 
The Bargaining Team includes CWA 1101 VP Mike Baxter, CWA 1101 Lead Organizer Keith Hogarty, District 1 Staff Representative John Dempsey, and Post Production Guild members Lauren Orban and Jill Christiano.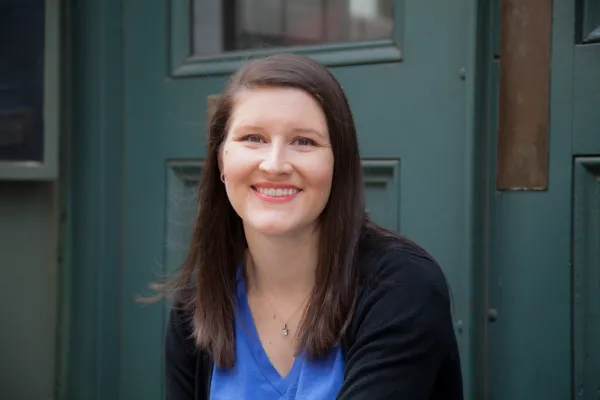 Post Production Coordinator Lauren Orban
---
We're Bargaining at Thryv and BBH Solutions 
Remember the Yellow Pages? The workers have gone through a number of company changes, but they're still CWA, now working for a company called Thryv. Thryv was the result of a merger of Dex Media, the former Yellow Pages, and YP Holdings, a yellow pages publisher, in 2017. Thryv workers, members of Local 1101,  now work on  transitioning from the yellow pages to online advertising.  They're in bargaining now.
"One sticking point in negotiations with Thryv is what the compensation will be for new titles the company is trying to create," said CWA 1101 Business Agent Afori Bobb. "Another sticking point is management's proposal to change the compensation so the reps would get their commission payouts monthly instead of bi-weekly. We're working on both of those issues."  The union bargaining team includes CWA 1101 VP Maureen Hennessy, BA Afori Bobb, and District 1 Staff Rep Tonya Hodges. 
We're also in bargaining with BBH Solutions, whose technicians provide IT support for North Shore Hospital in Long Island. Our members worked at the Hospital throughout the pandemic. Like so many employers, BBH Solutions found them essential then but doesn't want to fairly compensate them now. "BBH members have been working without a contract since Aug 2022," said Business Agent Afori Bobb, "and our goal is to get them a fair contract with wage increases and backpay." The Bargaining Team includes CWA 1101 VP Maureen Hennessy, BA Afori Bobb, and District 1 Staff Rep Ricky Morrison.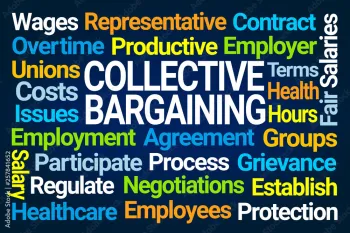 ---
New Organizing Never Stops
We organized workers at a number of new companies last year. Tech workers at Citizen (a safety app) and Sole Strategies (supporting grassroots campaigns), and JUSTFIX (a housing justice group) joined Local 1101 in 2022. Post Production Guild workers who help turn raw footage into a finished product for TV and films also joined Local 1101.
"A lot of non-union workers realized during the pandemic that they need union representation to address health and safety issues, working conditions in general, and of course wages and benefits," said Keith Hogarty, CWA Local 1101 Lead Organizer. "We've been organizing workers in the tech industry as part of CWAs national Code Campaign, and workers in the movie and TV industry as well. We've had to change our game plan, though, with workers who are working remotely. We always relied a lot on face-to-face meetings, which often isn't possible with workers who are remote and spread out all over.  But we've adapted and been successful."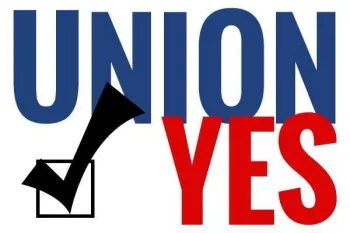 ---
Training Our Members and Stewards
One of the most important rights union members have is the right to Just Cause, a key component of all our contracts. Without Just Cause employers can discipline or fire workers at will, for almost any reason. With Just Cause, employers have to show that discipline, including firings, meets certain standards - like a fair and thorough investigation. We never have as much time as we want in new steward training to discuss Just Cause, so we offered a new training dedicated to Just Cause with retired District 1 Counsel Gay Semel. 
Donnamae Crossfield is a Customer Service Representative in the Business Department. Donnamae's been a steward for five years, and currently works from home. "I found the Just Cause training really useful. I liked that the examples were relatable, and helped us understand when and how to apply just cause reasoning," Donnamae said.  "In the training we went through examples of each of the Seven Tests of Just Cause and discussed different points - what you should zero in on, how to tackle the issue. When someone calls me with a question, I want to have a roadmap to make sure I'm getting all the relevant information and able to process it in a manageable way. The training helped me learn to do that."
We also held Steward Trainings with Citizen in October, MGM Empire City Casino in Yonkers in November, and Verizon Commercial stewards in December.  CWA 1101 members led and  participated in CWA District-wide Reversing Runaway Inequality training, and Unity@Mobility training.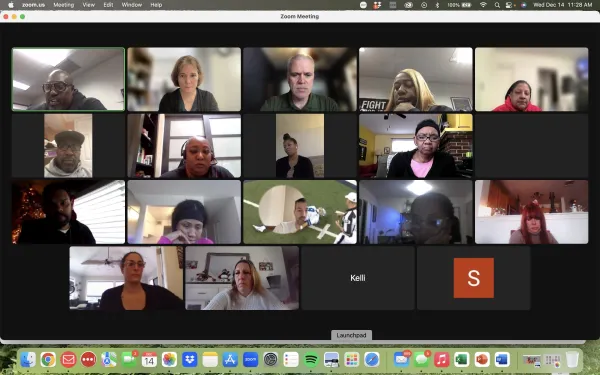 Verizon Commercial Stewards Training
---
Solidarity!
Local 1101 members know what it means to be out on the street on strike, and how important union and community support is.  We know that supporting other workers is key to helping build a strong labor movement. Plus we like to yell! During the winter of 2022 Local 1101 members and retirees were out on picket lines and at rallies supporting Starbucks workers at the Roastery in Chelsea on strike for health and safety issues; adjunct faculty at the New School in lower Manhattan, and CWA NewsGuild members at the New York Times fighting for a contract. 
NYSNA workers at Montefiore and Mt Sinai Hospitals went on strike in January for safe staffing, better patient care, and a fair contract. CWA 1101 members and retirees were with them on the picket line every day of their 3-day strike. And they won! Nurses at both hospitals won unprecedented nurse-to-patient staffing ratios with enforcement mechanisms, including financial penalties payable to nurses when the hospitals fail to abide by the safe staffing standards.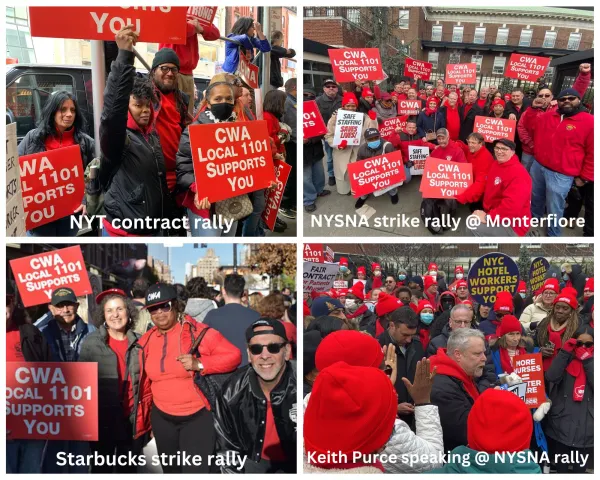 ---
What's our Equity Committee up to? 
We were so happy the parades were back in person in 2022.  Local 1101's Equity Committee organized a great contingent at the African American Day Parade in Harlem in September. Our CWA float was a tribute to the CWA members from District 1 we lost to COVID, including CWA Local 1101 Chief Steward Zeke Cousins who spearheaded Local 1101's presence at the parade prior to his passing in 2020.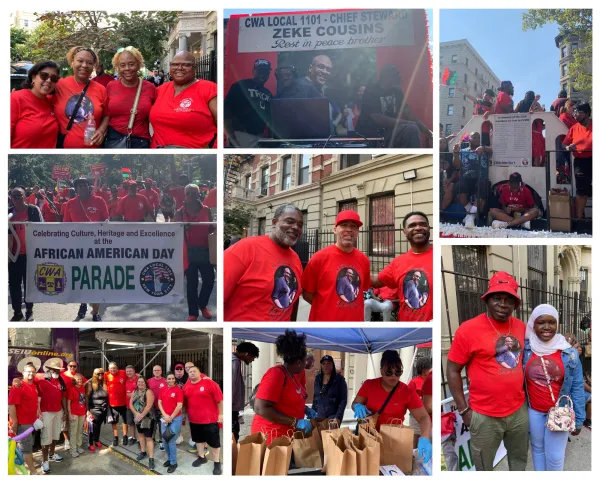 In December of 2022 Equity Committee members organized a holiday party for residents of the Broken Not Destroyed Shelter in Long Island. We're currently planning a Black History month event for February.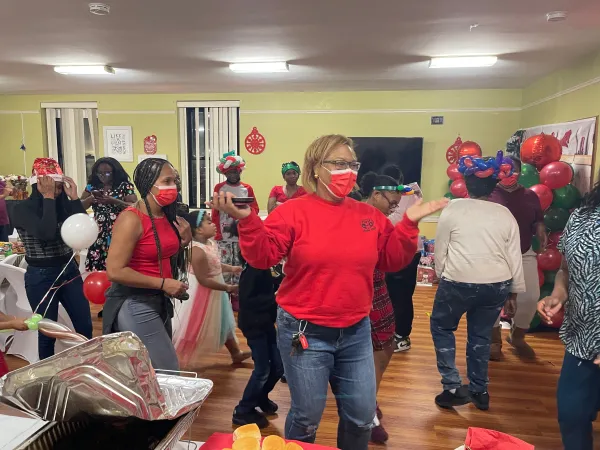 If you're interested in joining the Equity Committee please contact Susan Nicholas at snicholas@local1101.org or Afori Bobb at abobb@local1101.org. All are welcome.
---
Speaking of parades - the NYC Labor Day Parade was back in 2022 for the first time since COVID as well. We marched up Fifth Avenue in Manhattan with union members from across the region to lift up the people who make New York City work day in and day out.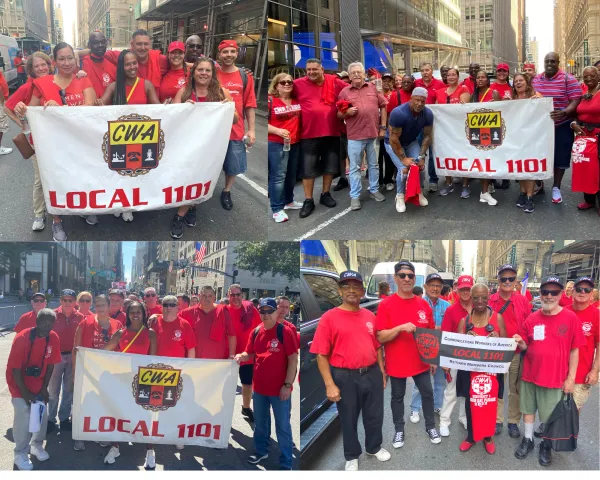 ---
Join our Women's Committee!
Local 1101's Women's Committee organized a hugely successful fundraiser - and a super fun day - at the Making Strides for Breast Cancer walk in the Bronx in October. We blew past our $10K goal and raised more than $13,000 for breast cancer awareness and research. We're currently planning an event for Women's History month in March.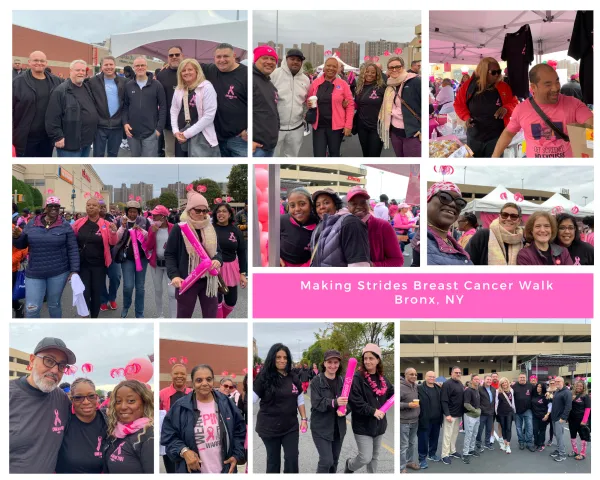 If you're interested in joining the Women's Committee please contact Josey Diomede at jdiomede@local1101.org or Heather Trainor at htrainor@local1101.org. Everyone is welcome. 
---
Local 1101 Retired Members Council is ALWAYS ACTIVE
We recently celebrated ten years since we revived our Local 1101 Retired Members Council chapter.  We're holding monthly hybrid meetings - in person at the Local and via Zoom for those too far away or unable to attend. We've been able to mobilize on short notice and support our union sisters and brothers on strike in New York City at Starbucks, the New York Times, and Mount Sinai and Montefiore Hospitals. Are you on the email list? 
Our chapter is now the home for retirees from Locals 1101, 1105, and 1102. Join us in person and on the internet. Stay in the loop - find out about rallies, picket support and meetings - sign up for our mailing list. Go to https://local1101.org/, "sign up for updates" and choose "retiree" from the drop-down menu.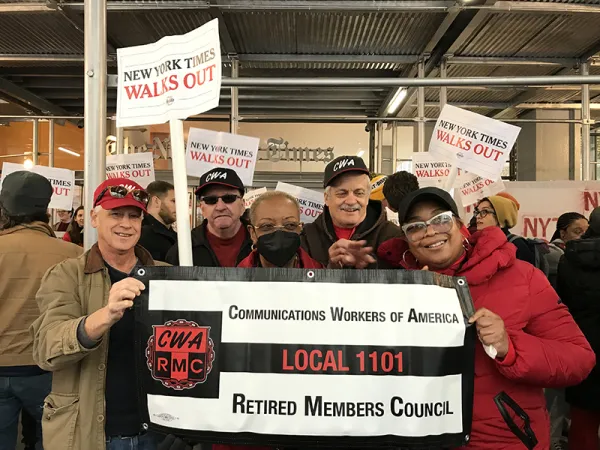 Local 1101 Retired Members Council leaders at New York Times rally
---
Chief Steward Chris Smyth Recognized with Solidarity award
Local 1101 Chief Steward Chris Smyth was awarded the Eugene V Debs Solidarity award at CWA District 1's Political & Legislative meeting in January, 2023. Chris has dedicated countless hours to CWA's political action work, and was recognized at the District-wide meeting for his commitment and hard work these many years. Well deserved Chris. Congratulations!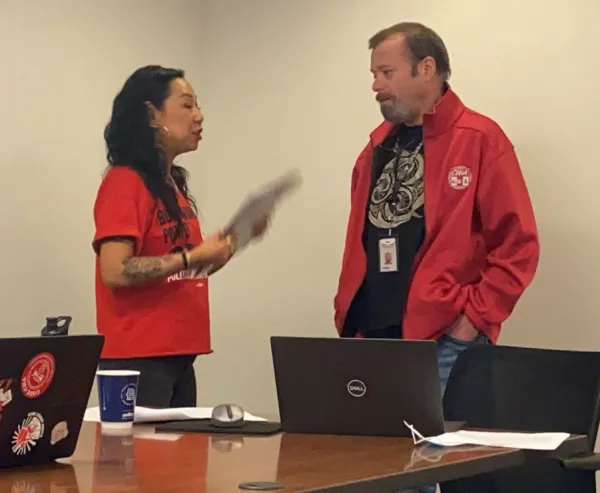 CWA D1 Political Legislative Director Hae-Lin Choi awarding Chris Smyth his award