News
African American Day Parade - Sun, Sept 17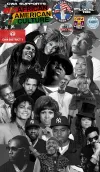 Join CWA Local 1101, CWA District 1 and NY Locals at the African American Day Parade on Sunday, September 17 at 12pm. If you've been before, you know what a great event it is. If you haven't been, now's your chance. Bring your family and friends, tell your co-workers. All are welcome!
This year's parade theme is Celebrating African American Culture. March with the CWA float  -We'll have music, dance, food, union friends and family. Don't miss it!
Sunday, Sept 17, 12pm Enter at West 112 Street & St Nicholas Ave
Share with your co-workers, family and friends.
$1 billion for NYS Broadband Deployment- We want good union jobs!
Making Strides Against Breast Cancer - Sun Oct 22
NYC Labor Day Parade - Sat, Sept 9