News
Broadband Brigade: Member Petition Helps WIN BIG on Broadband Buildout!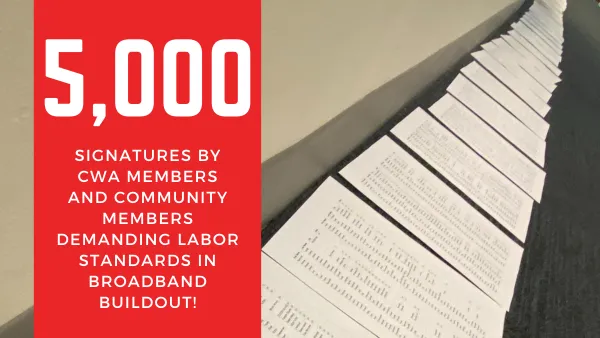 Thank you to all our members and retirees who signed the petition to the New York State ConnectALL office, demanding that the $664 million dollars in federal money coming to NYS for broadband buildout includes strong labor standards and enforcement. We want those jobs to be union jobs!
Over the past year, CWA members fought for and won billions of dollars of federal funding for states to build out broadband to unserved and underserved areas as part of the Bipartisan Infrastructure Bill.
The District 1 Broadband Brigade, which CWA Local 1101 is part of, has been working hard to ensure that those funding dollars go to skilled, union labor - like our members - instead of fly-by-night contractors looking to make a quick buck with cheap labor. Brigade members circulated the petition to New York's ConnectALL office, the regulatory office overseeing the funding dollars, demanding fiber-optic technology, prioritization of high-road employers, and transparent and enforceable workforce plans.
The Action
On November 3rd, we delivered the petition with over 5,000 signatures to ConnectALL's Senior Vice President Josh Breitbart, as well as a letter signed by 122 New York State and local legislators - gathered by Broadband Brigade members through meetings with legislators  - stating, in part, "We have an unprecedented opportunity to close the digital divide and boost the economy, and these critical provisions must be included to ensure the highest quality public investment while safeguarding good jobs for telecom workers."
The Outcome - We Won Big!
Last week, the ConnectALL office released its Initial Proposal for this funding and it includes our demands for:
Requirement for fiber-to-the-home with very few exceptions
Prioritization and requirements for high-road employers who have a directly-employed and local workforce, as well as robust in-house training
Publicly available and binding workforce plans
This is a huge win for the tens of thousands of CWA telecom workers in New York, as well as our communities throughout the state who deserve affordable, reliable broadband built by skilled workers.
The Broadband project is a multi-year effort and we're off to a great start. Thanks for your help, and you'll be hearing more from us on the Broadband Brigade as the work continues.
Broadband Brigade: Member Petition Helps WIN BIG on Broadband Buildout!
General Membership/Budget Meeting - Nov 16 @ 5:30pm
Verizon 4Q 2023 Surplus Declaration